What is Vehicle Type Approval?

Vehicle Type Approval is the confirmation that production samples of a design will meet specified performance standards. The specification of the product is recorded and only that particular specification is approved. Automotive EC Directives and UN Regulations (formerly known as UNECE Regulations) require third party approval – testing, certification and production conformity assessment by an independent body. The VCA is the designated UK Approval Authority and Technical Service for type approval for European Community (EC) Directives and the equivalent United Nations Economic Community for Europe (ECE) Regulations within the automotive industry.
An EU regulation that actually helps you save money!
EU regulation 19/2011~249/2012 states that:

1. The manufacturer's statutory plate shall consist either of:
(a) a rectangular sheet of metal;
(b) a rectangular self-adhesive label.

1.4. Metallic plates shall be fastened with rivets.

1.5. Labels shall be tamper evident, fraud resistant and self-destructive in case there is an attempt to remove the label.

CILS Vehicle Type Approval labels are now VCA approved saving you time and effort (and further costs)

The VCA has accepted 2 types of CILS thermal transfer computer imprintable labels for Vehicle Type Approvals. This will make the process of acquiring compliant type approval labels seamless for you, as CILS have already completed all the necessary testing and paperwork. All you have to worry about is which label construction you want to use from the approved range.

What does this mean for you?

1. You don't have to get VCA approval for your labels
The VCA check label compliance against the requirements set out in EU regulation 19/2011~249/2012. You can rest assured that our approved labels meet the specified performance standards and that you are getting a product that has been designed to resist the processes involved in Vehicle Type Approval. We can provide you with a letter of non-concern showing that our labels have been approved by the VCA.


2. Reduce costs with durable labels rather than expensive metal plates
Considering the costs associated with sourcing, etching and applying metal plates, our VCA approved CILS labels offer you a more convenient and cost-effective alternative to metal plates saving you money and time in the process. One customer managed to save £25 per label by switching away from metal plates to a tried and tested label solution that is approved by the VCA. Read our blog about metal vs printable labels.

3. Label durability that matches or surpasses metal plates
Metal Plates can corrode or degrade quickly. CILS durable labels withstand harsh industrial environments, remain legible and intact for the lifetime of your product, and show evidence of any attempted removal.

4. The convenience of printing your own durable labels in-house
If you already own a thermal transfer printer, then you can print your own durable labels in-house without purchasing a special printer. Alternatively, speak to CILS about other affordable printer packages available.

Choose from two available CILS label options that have been VCA approved:
Option 1
This option is made of a 'VOID' evident material which is very durable and leaves a 'VOID' message during attempted removal.
Part no.: CILS-TMSPETV/VCA - ARA for thermal transfer printers.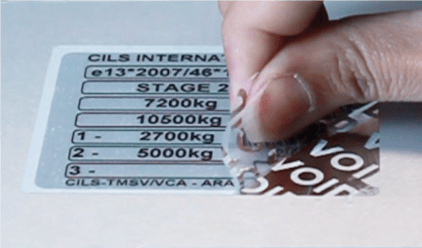 Option 2
The second option is made of tamper evident material which is very durable and extremely difficult to remove once applied. If removal is attempted then the label will break up like an eggshell.

Part no.: CILS-8800M/VCA - ARA for thermal transfer printers.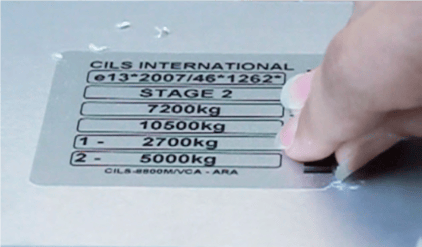 How can CILS help you?
CILS manufacture durable and tamper evident labels using industrial grade label material. Durable printable rating plate labels are specifically constructed to last the lifetime of the product. Label constructions can be tailored to individual applications, surfaces and durability demands to resist solvents and chemicals, weathering, abrasion, fuels and oils, extreme temperatures (-55°C to +150°C) etc., making them perfect for machinery, vehicles, components and much more.

Contact us now for all your labelling needs...
---
...we'll send you info and vca approved samples.
About CILS International

CILS International leads innovation within the durable labelling industry; manufacturing computer imprintable labels for customers worldwide and providing comprehensive ID solutions – including label design software, thermal transfer printers and printer ribbons.

CILS manufactures the widest range of durable labels, with the Label Technology Centre (LTC) matching labels perfectly to your application. Available for laser or thermal transfer printers, labels are made in any shape or size, pre-printed or left blank as per your requirements. The CILS Label Printing Service is also available to print your variable data onto labels for you.
CILS International operates from a state-of-the-art manufacturing facility and supplies label solutions worldwide.
Disclaimer
All statements, technical information and recommendations herein are based on tests we believe to be reliable, but the accuracy or completeness thereof is not guaranteed and the following is made in lieu of all warranties, expressed or implied, including the implied warranties, of merchantability and fitness for a particular purpose: Seller's and Manufacturer's only obligation shall be to replace such quantity of the product proved to be defective. Before using, user shall determine the suitability of the product for its intended use, and user assumes all risk and liability whatsoever in connection therewith. Limitation of Remedies: The remedy described above shall be the buyer's Exclusive remedy for any breach of warranty.

NEITHER SELLER NOR MANUFACTURER SHALL BE LIABLE EITHER IN TORT OR IN CONTRACT FOR ANY LOSS OR DAMAGE, DIRECT, INDIRECT, INCIDENTAL, OR CONSEQUENTIAL, ARISING OUT OF THE USE OF OR THE INABILITY TO USE THE PRODUCT. No statement or recommendation not contained in our authorised literature shall have any force or effect unless in an agreement signed by officers of seller and manufacturer.

On The Blog: